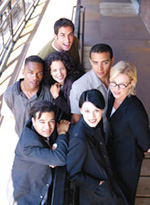 IMECO Federal Credit Union was organized in August l949 by 7 employees of Indiana & Michigan Electric Company ( now known as American Electric Power).
The credit union is a cooperative association organized in accordance with the Federal Credit Union Act and for the purpose of promoting thrift among it's members and creating a source of credit for provident or productive purposes.
As a cooperative, it is an organization owned and operated by its members, for the benefit of the members. Credit unions are non-profit cooperatives, whereby any excess earnings must be returned to the members in the form of dividends on shares, refund of interest on loans or expanded services.



Membership

If you meet any one of the following criteria, you may be eligible for membership at IMECO Federal Credit Union:
Employees of, and persons who regularly work under contract for, American Electric Power and its subsidiaries in the United States.

Spouses of persons who died while within the field of member ship of this credit union.

Persons retired as pensioners or annuitants from the above employment.

Members of the immediate family or household.

Organizations of such persons.
If you are uncertain about your eligibility with us, please feel free to contact us.
---
Not for profit not for charity, but for service.

The Credit Unions operating principles are founded in the philosophy of cooperation and its central values of equality, equity, and mutual self-help.

At the heart of these principles is the concept of human development and human fellowship expressed through people working together to achieve a better life for them selves and their families.

The principle functions of this credit union are to encourage savings and thrift and to provide consumers credit and favor able interest rates.

We at IMECO Federal Credit Union care about you and your family, and are striving to provide the best financial opportunities available.
---
LOCATION


The Credit Union's office is located at 3404 W. Boland Drive, South Bend, IN 46628.


Phone: (574) 232-8403

Fax: (574) 236-1616
Office Hours:
Monday 8:00 – 5:00

Tuesday 8:00 – 4:30

Wednesday 8:00 – 4:30

Thursday 8:00 – 4:30

Friday 8:00 – 5:00